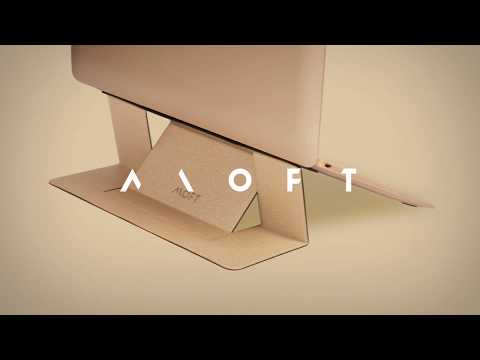 Serebral360° found a great read by
Entrepreneur
article,
"Work Anywhere With This 'Invisible' Laptop Stand."
Add another layer to your #Business literacy. We at Serebral360° would love to know if the Entrepreneur article was helpful, leave a comment, like and share. Let's dive in and discuss the information and put it to use to grow your business. #BusinessStrategy #ContentMarketing #WebDevelopment #BrandStrategy
Info@serebral360.com 762.333.1807 www.serebral360.com
Grap a copy of our Strategy Books 👉 CLICK HERE FOR VOL1 and 👉 CLICK HERE FOR VOL2
Starting your own company is a brave undertaking, but it also requires an exhausting amount of work. Entrepreneurs tend to always be half-working, and they usually need their laptops and smartphones with them at all times.
You need a comfortable solution for using your laptop when you're running from the office to coffee to your next big meeting. MOFT's "Invisible" Laptop Stand is a streamlined, weightless solution that goes wherever your laptop goes.
MOFT's laptop stand is a fiberglass accessory that attaches to the back of your laptop. It only weighs as much as a pen, but it can hold a laptop that's up to 18 pounds. It's ridiculously easy to set up: just flip your laptop over, align the stand up with the computer's hinge line, and stick it on.
The stand is a seamless addition to your computer. It goes completely unnoticed until you decide to unfold it. You can use it at its three-inch height option, or fold it down to a two-inch height. When you're done, just fold it up again and run off to your next meeting.
The MOFT "Invisible" Laptop Stand usually costs $24, but right now you can add this slick accessory to your computer for only $19.99 (16% off).
Related:
Work Anywhere With This 'Invisible' Laptop Stand
14 of the Best Morning Routine Hacks Proven to Boost Productivity
Understand This Strategy and You'll Get More Done
May 30, 2019 at 09:46AM
https://www.entrepreneur.com/article/334417
Entrepreneur
https://www.entrepreneur.com/latest?utm_source=Feedly&utm_medium=related&utm_campaign=syndication
http://bit.ly/2ACyNtx